Golf coaching is all about you and what you want to get out of your game. We pride ourselves on being good listeners and aim to provide the best possible professional advice, whilst ensuring each lesson is tailored and enjoyable for the golfer.
"We believe in truly working with players. Swing technique, on-course management, practice sessions and even physical/mental health"- Kegan Jamieson
Why Coaching?
Our mission is to help you enjoy your golf!
If you are a complete beginner or aspiring tour pro we have the knowledge, dedication and technology to help anyone improve all aspects of your game. We have 3 dedicated PGA Professionals with the same passion.
We don't believe in quick fixes, we believe in working with a player for the long run, to truly help them improve.
KJ Golf and Market Harborough Golf Club provide a studio, driving range, short game area and 18 hole golf course to use during lessons, so we can cover all bases.
Lessons will cover:
Golf Fundamentals
Swing Basics
Short Game
Long Game
Course Management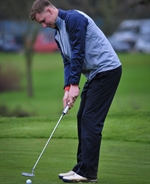 Kegan Jamieson - Head PGA Professional
Fully Qualified PGA Professional. Owner of KJ Golf Academy and Head Pro at Market Harborough GC! Growing the game and helping other players game is my goal. Shop, lessons, academies, fittings and now a junior tour. KJ Golf is striving to be the best place to help any golfer.
---
Mikey Chambers - Assistant Pro
+2 Golfer and now studying the PGA Degree. Turned professional this year coaching alongside Kegan.
---
Dan Ashcroft - PGA Golf Coach and Fitter
Fully qualified PGA Professional coaching and fitting all to help them improve.
---